Shortage Of Homes Listed Continues To Drive Metro Vancouver Housing Market
There was no summer lull between June, July and August this year as home sales were between 25% to 30% the 10 yr average.  Buyers are motivated, due to the cost of borrowing money (low interest rates) but are also competing for a smaller supply of homes for sale.  Those buyers who have a sound buying strategy and a understanding of current price trends are having the most success in today's market. It's competitive out there.
In August there were 3,362 sales reported on the MLS this is a 21.3% increase in sales over 2014.  The total number of properties currently listed for sale is down 26.2%.
On the listing side we have a total of 4281 listed on the MLS last month.  All listings totaled 10,897 listed for sale today.  This is down over 26% over last year and is the lowest total we have seen since 2005.  This activity is putting upward pressure on home prices.
The MLS Home Price Index composite benchmark price for all residential properties in Metro Vancouver is currently $708,500 that's up 12% over the last 12 months.
To help us better understand the strength of today's market we measure home buyer demand, fueled by home sales, against home seller supply, fueled by the number of home listings.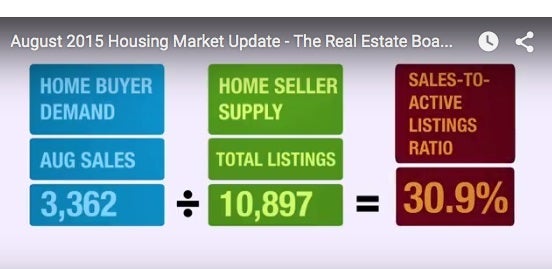 August marks the 6th consecutive month to have a sales-to active listings ratio of over 30%.  Generally annalists say that downward pressure on homes occurs when the sales-to active listings ratio dips below the 12% mark while home prices often experience upward pressure when the sales-to active listings ratio is above 20%.
Seeing the trends over the last 6months prove that if your not looking at property all day long your probably going to miss out on that dream home. That being said if you cant swim don't jump in the water - using a local Realtor who is understanding of the market is your biggest asset.